What are the downsides to getting borrower onboarding or the balance wrong between lending opportunity and risk?  In this article we summarize some of the more eyewatering consequences of poor lending approaches and strategies.
Aug 2018—Payday lender Wonga goes into administration after losing its battle to stay afloat following a surge in compensation claims amid a government clampdown on payday lenders. 
Wonga is the poster-boy of 'don't do this at home' lending strategy.  The company faced criticism for its high interest rates and debt collection tactics, made the changes after discussions with regulators.   The beginning of the end happened when Payday lender Wonga had to write off £220m of debts for 330,000 customers after putting in place new affordability checks.  Customers in arrears whose loans would not have been made under the new checks had their debts written off while a further 45,000 customers in arrears were not required to pay interest on loans.
63% of European consumers abandon financial applications during the past year
Signicat has shared new research which reveals that 63% of European consumers have abandoned financial applications during the past year.  The survey carried out in May and June 2020 during the Europe-wide COVID-19 lockdowns reported the worst findings since the report debuted in 2016. There was a significant increase of 23 points in 2020 from the 40% abandonment rate from last year.
The 7 Application Battles Every Banker and Lender Needs to Win
Bankers and Loan originators burn up a lot of resources on attracting clients, especially Millenials, who may start the new account onboarding or apply for loans but never close the deal. But while some measure of abandoned applications may be unavoidable, businesses should continue to look within when seeking methods of improving the customer experience for onboarding and overall growth.  Onboarding or application abandonment can be attributed, at least in part, to errors or bottlenecks that crop up during application processing. Banks and financial institutions often find themselves in a no-win situation: While cutting corners on processing is a recipe for disaster, the oftentimes long procedures can cost them clients if it can't accommodate a customer's preferred timeline.
Onboarding and Origination Problems
Confusion Over Terms and Offering
Delays in Completing Paperwork
Errors on Forms
Waiting for ID Verification
Gathering Signatures From All Parties
Incidental Costs of Paper-Based Processing
Going Through Terms and Conditions Document
Financial Institutions Must Kill Pain Points in their Customer Experience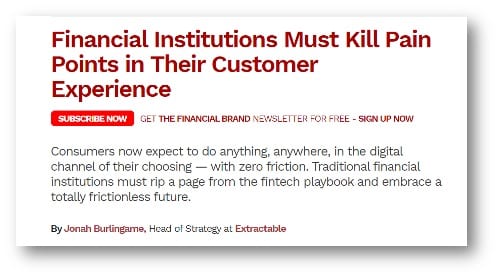 In an increasingly digital world, consumers expect a frictionless, omnichannel experience from their banking providers. Any form of friction — especially in digital channels — which inhibits users from intuitively and easily achieving their goals, is deemed unacceptable. If consumers encounter friction in any routine banking task, they will reshape their view of the institution, and the banking brand will take a hit.
Traditional financial institutions can reframe the situation through a lens that's a bit more positive: Wherever there is friction, there is opportunity. Banking executives can build their organization's branch by hunting down all point points lurking in their customer experience and quashing them.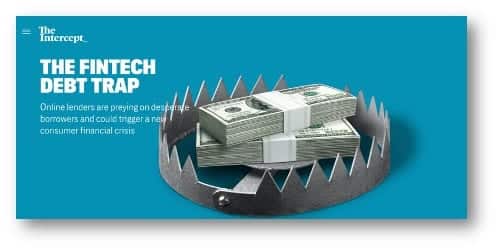 THE ECONOMIC CATACLYSM brought on by the coronavirus caught American consumers in an extremely precarious position — one that was evident well before more than 50 million people filed for unemployment. By the end of last year, Americans had racked up nearly $4.2 trillion in consumer debt, not including mortgage debt — a record high. The greatest contributor to this surge was not credit card spending or student debt or auto loans, but something newer and, for many borrowers, even riskier: high-interest personal loans, increasingly offered by online financial technology companies known as "fintechs."
I
an Tomlin is a management consultant and writer on the subject of enterprise computing and organizational design.  He serves on the USTECH GLOBAL European Management Team.  Ian has written several books on the subject of digital transformation, cloud computing, social operating systems, codeless applications development, business intelligence, data science, office security, customer data platforms, vendor management systems, Managed Service Provisioning (MSP), customer experience, and organizational design.  He can be reached via LinkedIn or Twitter.
We make innovation work for businesses around the world. 
PrinSIX offers a services-led digital platform that uses real-time analytical learning 'at the speed of digital' to orchestrating unique customer onboarding journeys, one decision stage at a time.  PrinSIX meets the needs of lenders, regulators and customers fully and simultaneously; equipping lenders to maximize customer experience and lending while minimizing cost and risk; with a major concern being regulatory compliance—an existential threat.  
For more information, please visit www.prinSIX.com.