Our solution
The PrinSIX
Platform
PrinSIX is a SaaS based digital orchestration platform, providing your customers and internal users simple, fast and rich digital journeys.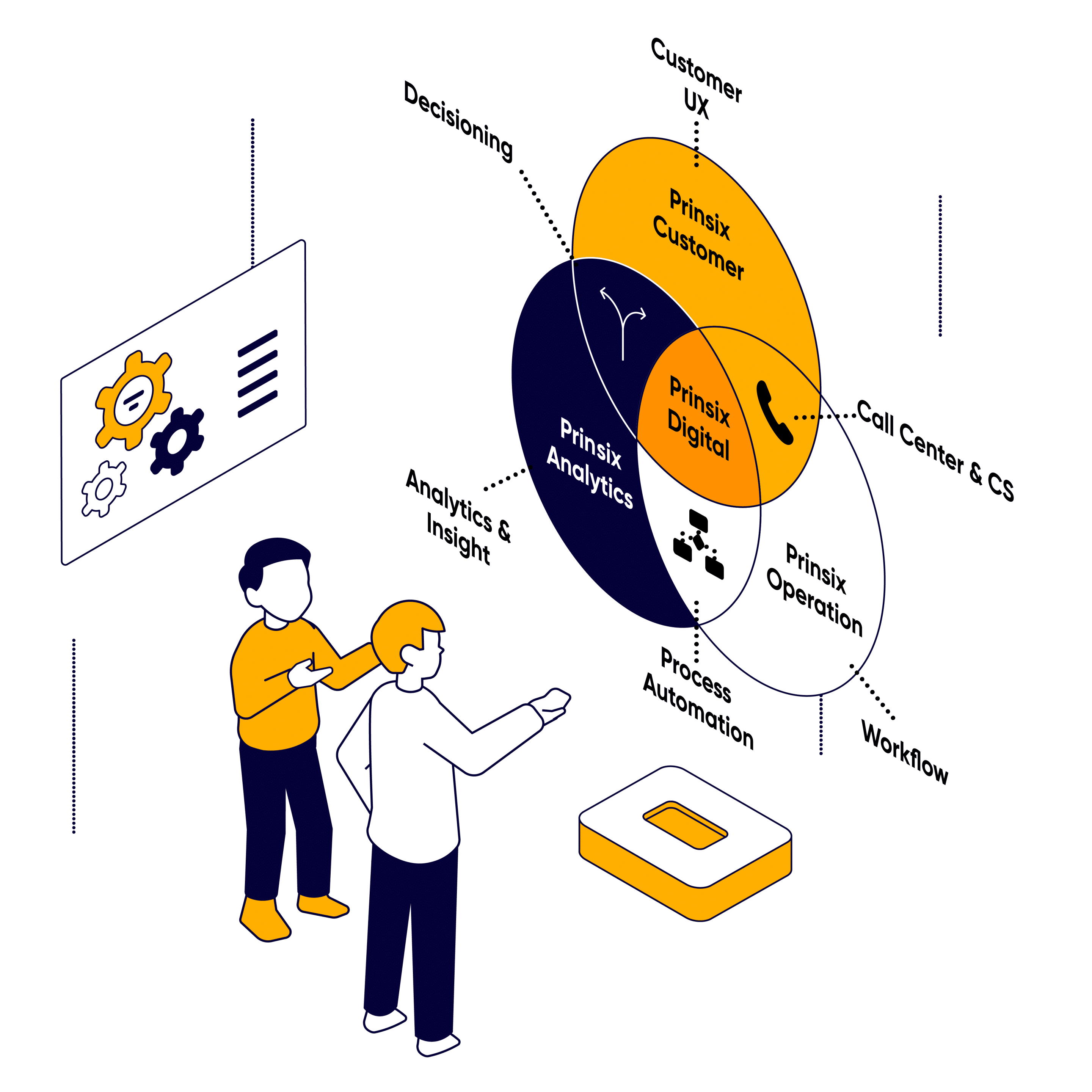 Why is PrinSIX different to others?
How does the platform work?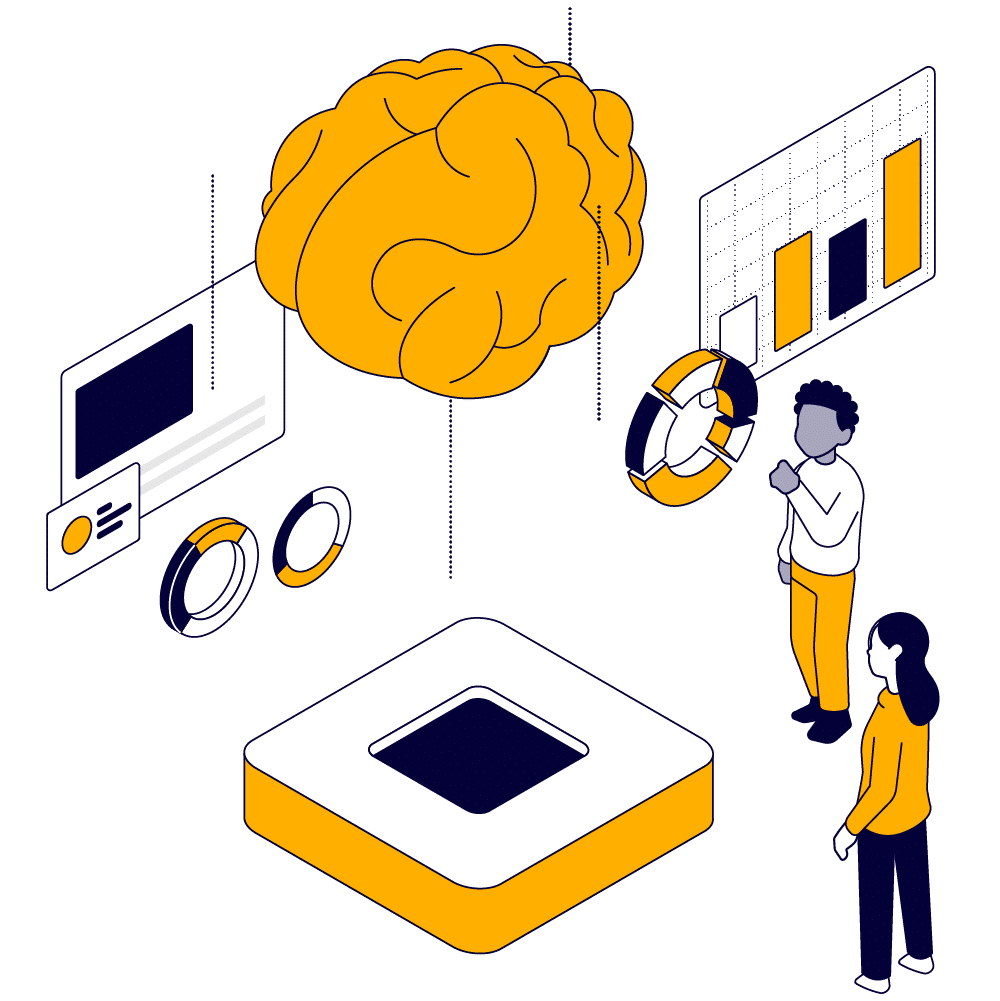 PrinSIX Data orchestrates every element of customer data, requesting, storing, and processing it to understand each customer dynamically and effect the journey in real-time, based on this understanding.  Capability includes – 
Single customer data model
Having real people's profiles within our platform only once is an obsession.  Sophisticated analytics ensures that this integrity is maintained, providing deeper insights into customers, driving better customer outcomes
Data curation for business usability
The diversity of data within the platform is curated for business users, so data selections presented for journey design are relevant and in natural language  
Holistic and comprehensive
Every piece of customer data and insight is stored, nothing is lost.  This extends into behavioural data observed within journeys.  Everything is captured, providing further opportunities to personalise, optimise and audit the journey for better customer, commercial and regulatory outcomes
Data automation

Collation and aggregation of data, and execution of that data within analytical models and frameworks can be fully automated.  Data analysts and decision scientists' time is focused on improving how data is used, not manually running everyday repetitive data execution routines.
Analytics and Decisioning
Data drives customer journeys through data management analytics and decisioning.  From simple decision trees to scorecards and predictive models, the power of the rich data can create actionable events.  External decision engines, AI engines and other tools can be easily deployed within journeys 
Test and learn
Every element of every journey can be AB split tested, to support the process of perpetual optimisation.  
Management Information
MI reporting and visualisation tools such as PowerBI and Tableaux give teams unprecedented insights into customers' digital experiences, customer outcomes and business performance, resulting in agile data management.
GDPR
Data retention and other GDPR policies can be fully automated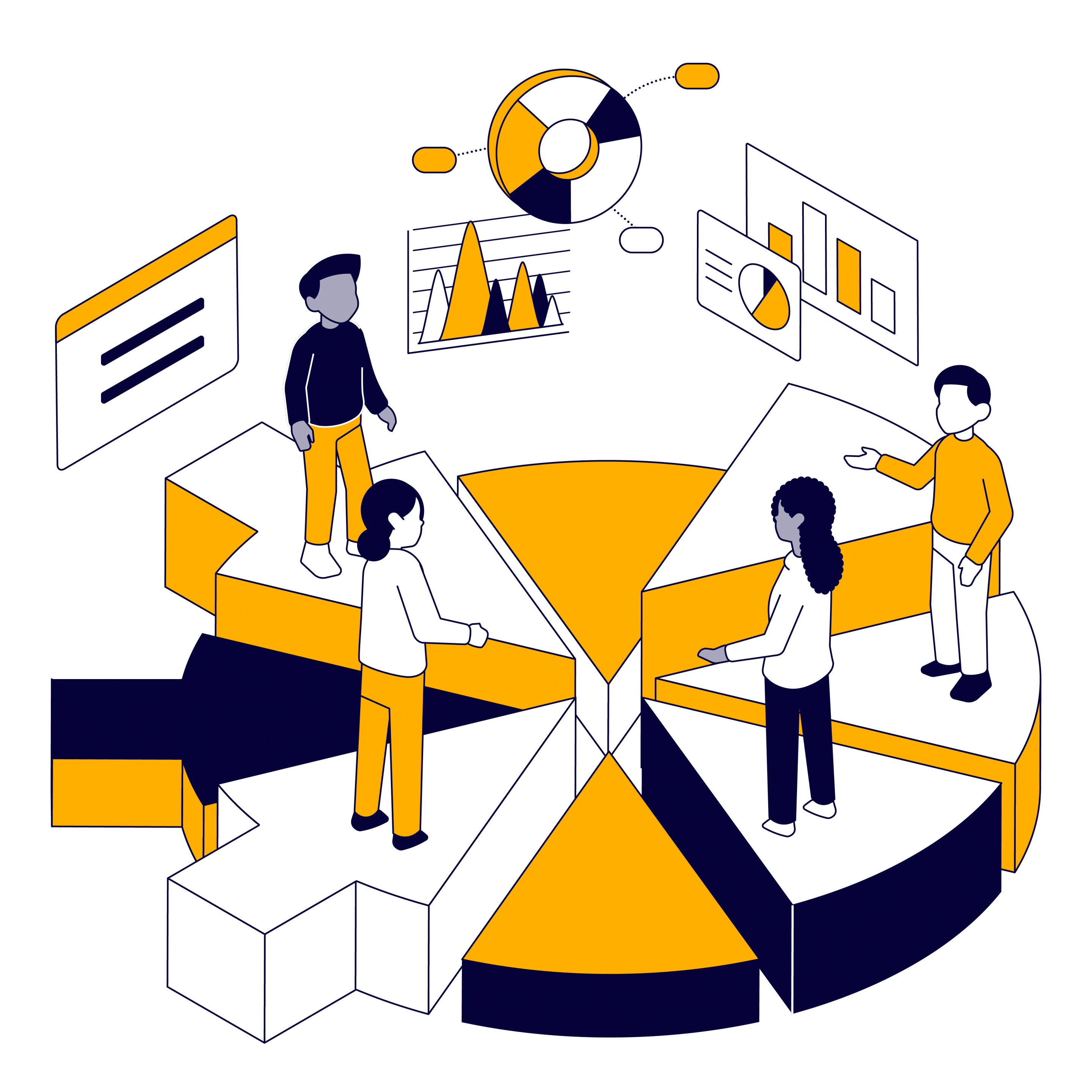 PrinSIX Customer defines and controls all customer facing journey interactions, optimising your customer engagement platform.  A suite of highly adaptable UX and communications tools deliver world class customer experiences, all highly personalised to the individual.  
Capability includes –  
Customer UX
PrinSIX empowers businesses to design web experiences to interact with customers.  Core to our principle that every customer needs to be served individually, these are dynamic journeys that adapt and change as more is understood about the customer – their needs, commercial value, commercial risk, regulatory risk.  No more one size fits all web forms, but digital conversations where every question is relevant.
Call Centre
PrinSIX lets businesses deliver the same personalised experience for the call centre environment.  Self-serve and assisted service customer experiences work in unison, concurrently is required. 
Customer Portals
'My account' or similar digital areas where existing customers can manage products, services and their profiles.  Customer portals are fully dynamic, presenting information and journey options that are relevant to the individual at that point in time.
Communications
Omni-channel communications strategies can be dynamically created and triggered, as required for the best customer and business outcome.  
Pre journey – Automation of customer segmentation and comm's strategies to optimise customer engagement, as well as

onboarding automation

In journey – communications that support the completion of journeys

Out of journey – communications to re-engage customers to maximise journey completion. 
Customer Journey Tracking
The PrinSIX platform supports web-tracking.  Web tracking data can be used to understand and optimise customer experience, customer journey management, and as real time behavioural inputs to be used within the dynamic nature of the journey.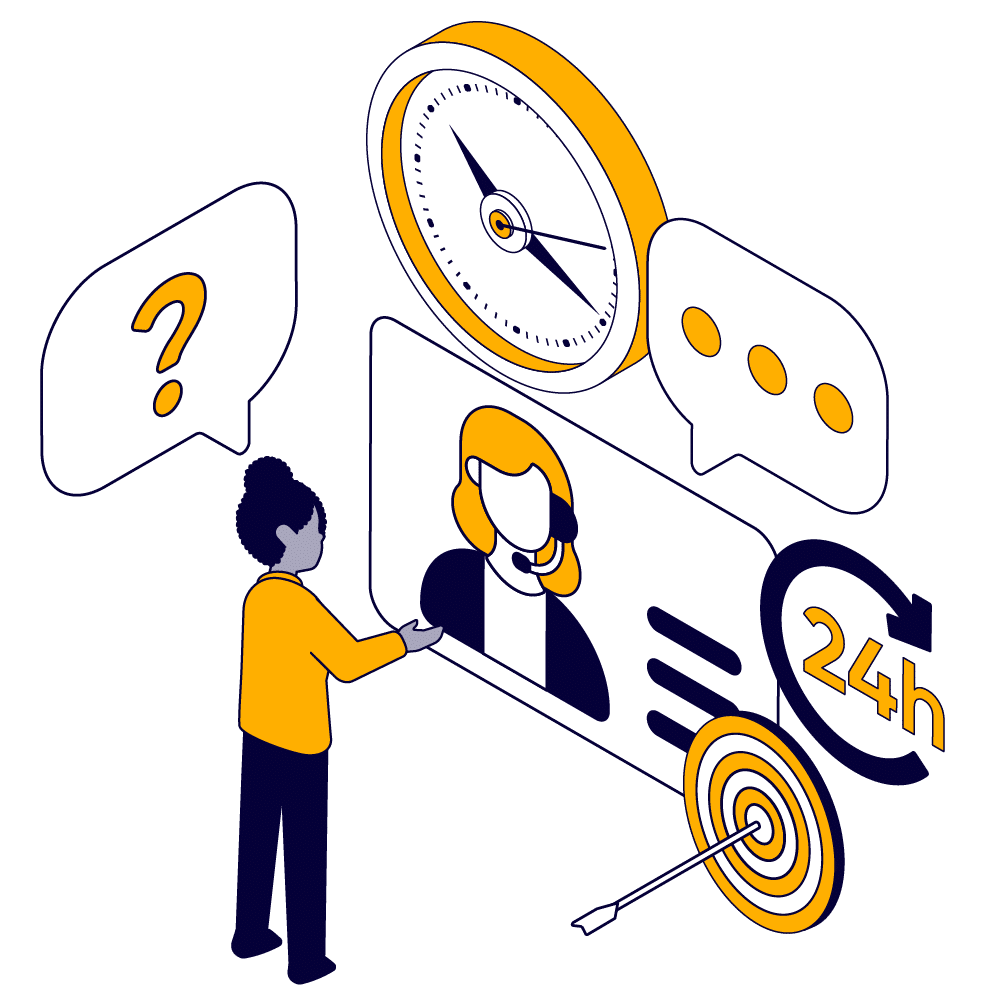 Many customer journeys trigger operational tasks.  Too often though, manual operational tasks are workarounds for inadequate technology rather than value adding to the customer experience or business efficiency.  PrinSIX allows businesses to create very targeted operational tasks and automate them if possible, maximising operational teams' productivity.
Capability includes –
Dynamic Workflows
PrinSIX automated workflows are unique, as they are driven by the customer and customer needs.  Workflow actions are only triggered when they add value to the customer or the business.  
Operations portals
Build dynamic portals that are relevant to each team member, based on role, experience and authority.  Using Microsoft Single Sign On, each operations team member has access to the journeys, information, and business KPIs that they need to do the job.
Process Automation
PrinSIX delivers Process Automation for businesses by turning the rich insights within PrinSIX data into action.  
Oversight and QA
Every customer response, every agent action, every operational task is tracked and stored, providing the information required to optimise operational tasks, measure output, and review team members' performance.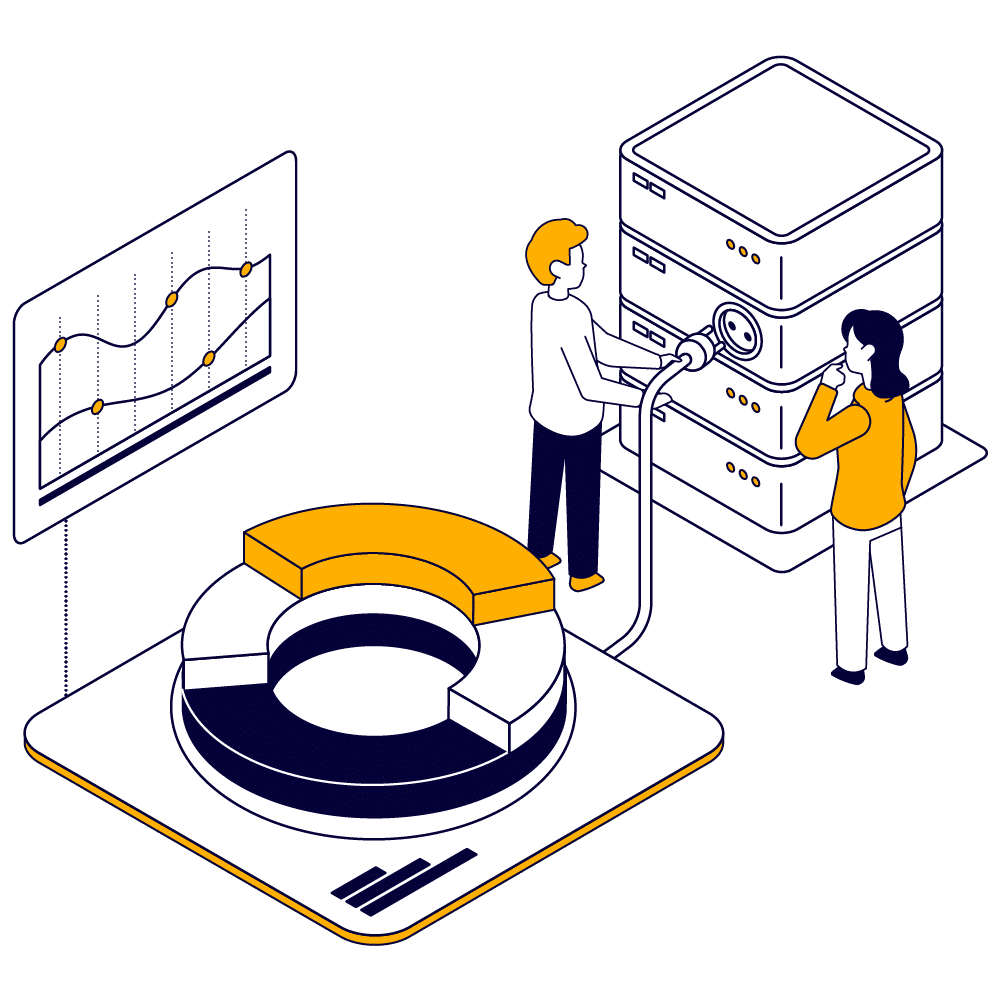 PrinSIX Connect makes connection with internal and third party systems and services simple and quick.  Once connected, external systems can be included into customer journeys in minutes.
We fit to your systems.  PrinSIX does not require other systems to be modified in order to integrate.  Instead, PrinSIX has multiple integration methods to substantially remove technical effort to deploy.  
Typical connections include 
Core customer and product systems, which remain the systems of record 

Internal and external databases to retrieve and record data.

CRM integration

Payment systems

Specialist microservices (eSignature, document verification, biometric checks, for instance)

Open Banking integration
Each service is called through a connector that can be configured into any journey at any point.
Pricing is derived from two broad stages: a design and build stage and a go-live/ongoing platform stage.
A typical project will incur fees of £50k to design and build followed by monthly platform fees once live of £4k pcm (including support).
Our clients understand their customers. The PrinSIX team understand digital orchestration. Our collaborative approach combines both to realise the true digital potential that exists in our clients' businesses.
Frequently asked questions
Is there onboarding support?
Yes, PrinSIX will work alongside you to design and build the solution that you require before moving into the 'live' operational phase. At every step, PrinSIX's team of specialist consultants will be with you to answer your questions.
What does customer support look like?
Once your solution is 'live', we offer technical support as standard during UK business hours which can be enhanced to 24/7 x 365 on request.
How long does a project take to complete?
This will depend on the complexity and number of the digital journeys required, but a typical project will take 6 weeks from concept to being operationally 'live'.
What data points, systems and services can be integrated?
The PrinSIX platform is able to ingest any system or service due to the advanced API integration layer and connector library. If a connector does not exist, this can be created as part of the build process.
Lucy Henn
KCOM Retail
Collaborating with PrinSIX to develop the UK's first digital validation for our social tariff, which was deployed within a matter of weeks, has resulted in a 141% uplift in our social tariff take up – meaning more residents of Hull & East Yorkshire can manage their monthly bills during the cost-of-living crisis.