Our clients understand their customers. The PrinSIX team understand digital orchestration. Our collaborative approach combines both to realise the true digital potential that exists in our clients' businesses.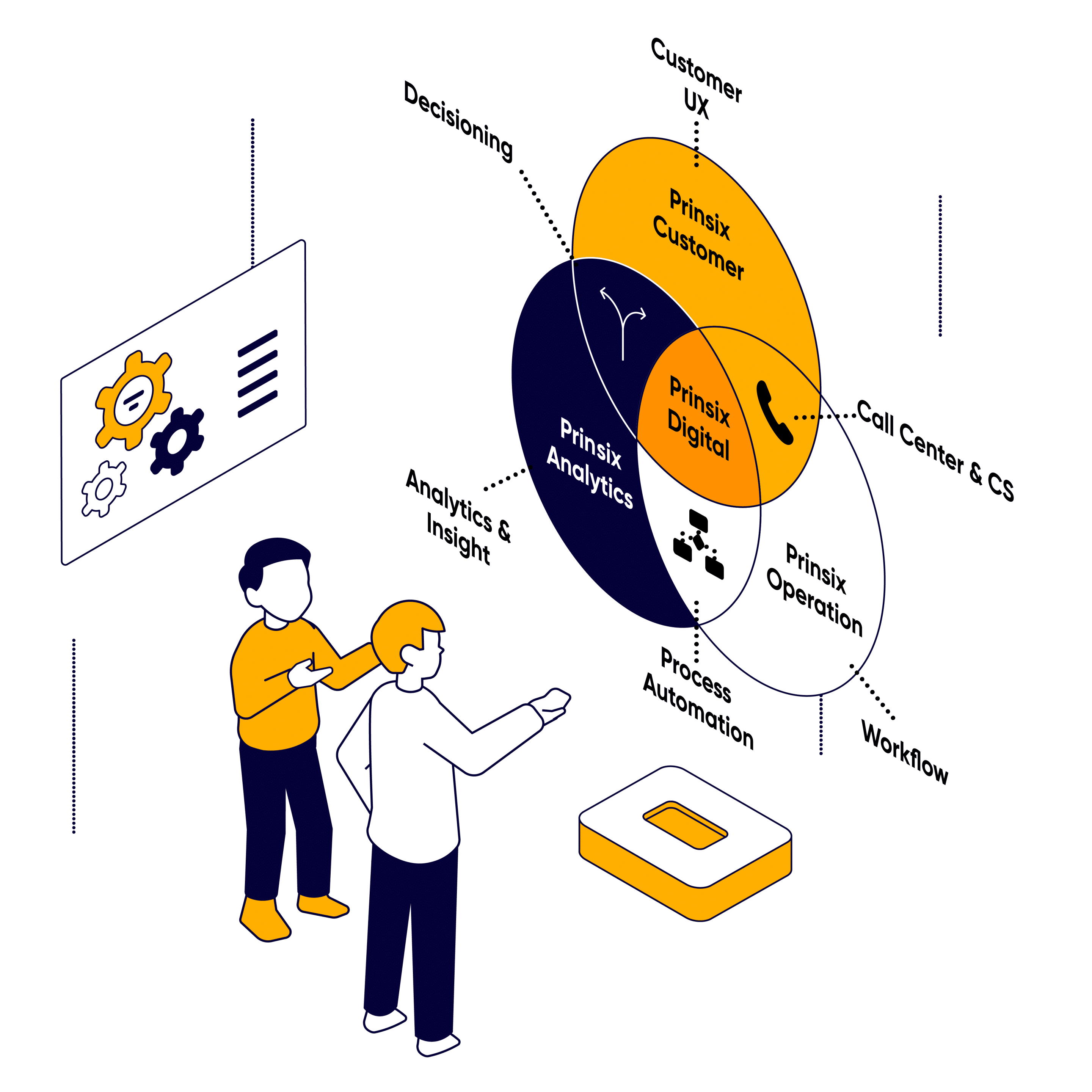 Our services
Creating very simple customer journeys without compromising the necessary understanding of the complexities of regulated businesses and their customers takes thought and time.  Our clients understand their customers.  The PrinSIX team understand digital orchestration. Our collaborative approach combines both to realise the true digital potential that exists in our clients' businesses.
Good journey design demands two things:
Understanding
the customer's objective

the business's business model

the business rules and risk

risk mitigation strategies

the current data architecture 
Focus on
optimising the customer experiences

optimising key business KPIs

automating business processes

optimising operational efficiencies 

improving controls and understanding
Our four-step approach to changing firms' digital relationship with their customers.
Step One
Opportunity Evaluation
We help current and future clients explore how analytically led digital orchestration can change customer experience, operational efficiency, and risk controls. 
This is not 'boil the ocean' digital program visioning, but PrinSIX's iterative philosophy to identify high impact digital journeys that are typically delivered in under eight weeks and pay back in under six months.
Cost – Free
Step Two
Discovery
Discovery is about defining the journey for customers, operations, risk managers and compliance teams.  Discovery is the most important step, as the quality of thinking in discovery defines the quality of the solution.  The PrinSIX team will facilitate the discovery sessions.  This step combines clients' understanding of their customers, their products and their markets with our expertise in digital journey orchestration.  
The PrinSIX team will work with a client's subject matter experts to: 
Expose the current customer experiences. 

Map current business processes.

Understand all core technical systems that deliver current experiences.

Identify data silos to liberate data from.

Design customer, operational and analytical journeys to improve core customer and commercial outcomes.
The output is a journey definition document that describes the customer, operational and analytical journeys, policies and decisions.  Not everything needs to be defined before proceeding the next step, because nothing is hard coded.  Changes, improvements and enhancements can be made at any point.
Discovery typically takes two to four weeks.
Cost – Dependent on scope 
Step Three
Delivery
Delivery is a very agile process.  The first deliverable is a working prototype of the customer and operations experiences, so business stakeholders can be involved in shaping the final product.  Business engagement is high, and the risk of delivering a poor solution is low.
PrinSIX will deliver all connectors to systems and services internal and external to our clients.  Journeys can be configured on the PrinSIX Journey Management System by PrinSIX, or collaboratively with the client.  You choose who controls the journey delivery and configuration support.
Delivery timescales is dependent on the scope of the digital experience.  Our advice to clients is that initial journeys should be scoped to be delivered in four to six weeks.  We plan for multiple rapid deployments that iteratively develop digital solutions quickly.    
Cost – Dependent on scope
Step Four
Deployment
The PrinSIX platform is SaaS based, built natively in Microsoft Azure.  PrinSIX manages all cloud infrastructure, configured to the highest levels of security. 
We offer a baseline service plan in terms of performance, capacity, scalability and resilience.  However, our clients can modify the cloud specification to meet their specific needs.  
Our Support
PrinSIX platform fees offer four layers of support:
Infrastructure:
Ongoing support and monitoring of cloud infrastructure and platform services, to agreed specification.
Application configuration:
Supporting specific configuration deployments to monitor, diagnose and fix issues where client journey configurations break the service.  This support gives clients confidence that every customer is consistently being digitally served.
Application Optimisation:
The PrinSIX team can support clients' journey optimisation needs, through periodic review of journey performance.  Using data analytics, journey performance can be assessed, to identify areas of low engagement, journey abandonment, journey inefficiency or suboptimal journey outcomes, and make recommendations on journey improvements. 
Ongoing business support and mentoring: 
Our platform gives our clients the ability to continually deploy new and improved digital journeys that are owned and controlled by the business.  Journey design is critical to success, as much as journey configuration and execution.  PrinSIX offers our clients ongoing support for their business owners to assess opportunities, design and implement solutions.  This can be on a case by case or retained basis.  
Lucy Henn
KCOM Retail
Collaborating with PrinSIX to develop the UK's first digital validation for our social tariff, which was deployed within a matter of weeks, has resulted in a 141% uplift in our social tariff take up – meaning more residents of Hull & East Yorkshire can manage their monthly bills during the cost-of-living crisis.